Current mood:
This didn't help either.
In spite of last weekend's delightful surprise and concomitant confidence-building, it must be admitted that I haven't exactly been tearing out of the gate on this project subsequently. A good part of this is due to post-election emotions, a combination of "what does it all matter" + compulsion for immersive escapism[1] which I've found exceedingly difficult to overcome. But even setting that aside, the problem is that I can't see my path clearly, and that's stopping me from even starting the parts I do have a plan for. So, let me try and lay it all out.
I have established that
the pieces much be stretched for quilting, or the quilting won't work. -> It is known that Red Charlie was done this by stretching the base fabric on a frame, and then putting the padding and then the fashion fabric on top, and quilting 'em all together. -> Logically, since the same guild would make Red Charlie and Gold Charlie, they'd do the same technique. (And also, I can't figure out any other way to do it given the original postulate.)
Points of question:
This is somewhat wasteful of the base fabric, as you have to have enough unused space around the edge to attach it to the frame. Is that cricket?

I think that's OK for this project because it's a rich guy's garment and if he's affording silk damask he doesn't have to give a tinker's dam about a few scraps of linen--but it opens the question of, how did they do the common soldier's aketon? He can't afford it. What's the process for him? And what am I missing by not knowing it?

Stupid minor nit: what is the best analogue for period silk sewing thread? I used silk buttonhole twist for quilting the swatch, and it worked well, but is it right? Even St. Janet didn't specify anything other than "silk thread".
How does one actually do the assembly? My assumption is:
Draw the pattern pieces onto the base fabric

Stretch base fabric on frame

Cut out the pattern pieces in the fashion fabric

For each piece, put a bunch of tow on top of it, and then the fashion fabric on top of that

??? Stitch?

Profit!
But I'm not sure if one ought sew around the edges (say, just inside the seam allowance) to make a "pillow" like I did for the swatch, or just quilt away, and what the ramifications are in either case.
And even then, how the heck do you pad the sleeves?
We know[3] they're assembled pre-quilting, so it can't be approached like the above method.

So. You have to quilt a piece shaped roughly like a giant wedge of cake. How?

Embroidery Option #1: Lace it into a slate frame.

I'm pretty sure this won't work because the piece is too heavy.

Embroidery Option #2: Tack it to a larger piece of fabric and stretch that to your frame.

Non-starter; it would mean there's another piece of fabric on the sleeves, and there isn't.

Quilt it without stretching it.

I have pretty conclusively shown why that doesn't work (unless there's some magic-bullet technique I wot not of).

Build a blanket fort and snivel in confusion. <--- YOU ARE HERE

The only thing I can think of is to do it on a very small frame and moving the work section frequently; but I foresee challenges in trying to tack down the parts that are already padded. I'm not sure it will work at all. But this is the least worst option I have come up with.
It's funny; I used to merrily plunge into things with no clue of what I was doing and deal with problems as they appeared; and after long and painful experience (both at work and personally) I finally learned to plan everything out, gather my information, line it all up, and then proceed. So of course, now I have to un-learn all of that, and remember how to be careless again. Wait, what?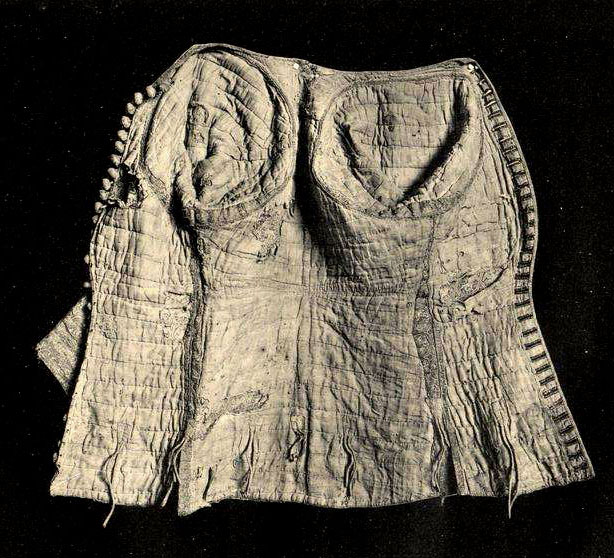 This is the best photo of Gold
Charlie's inside that I could find
[1] I've been replaying Skyrim. Because getting chewed on by giant bears and hacked up by deadites[2] seems like a more promising environment. At least they *have* an environment, which we soon won't.
[2] and at least I can shoot the bad guys with my trusty bow; not a winning strategy for real life.
[3] Do we know this for certain sure? The quilting lines really, really look like it, and it would be the natural conclusion from looking at them. But the inside construction has never been truly studied, AFAIK; and if you've eliminated the impossible--